Canavese Connexion.
Design-driven innovation

---
"T-shaped companies are better fit to survive critical economic recessions. Specialization and diversification are the key for sustainable businesses "
---
read more about the initiave here
Canavese Connexion is the result of careful analysis of the network of small and medium-sized companies in the Canavese area, an industrial district with great production potential but often bound to supply contracts that limit the development of individual companies.
We were strongly behind this project, convinced as we are that design is not just style and aesthetic but it can truly constitute the drive to innovation. Design results in the creation of alternative routes that companies can follow without the financial burden of investing in new equipment and technology.
The idea behind the project was to favour the creation of a profitable and lasting relationship between the world of design and manufacturing companies in the Canavese area. Canavese Connexion sought to shorten distances and fuel dialogue between production and design, acting as a go-between for young designers and companies, and bringing the educational world closer to that of work. A competition was held with a jury comprising Design Gang Network, the City of Ivrea, Confindustria Canavese and Torino 2008 World Design Capital to select ten work teams, each formed of a professional designer , a design student and a Canavese company. Each team developed new products far removed from the company's core business that would alter and upgrade its production but based on technology already in the company's possession. The design phase started in March 2008 and the companies began making prototypes after the creative proposals had been developed. Over the next six months, each team produced one or more products.
The prototypes, all strictly made in Italy, were presented at twin exhibitions in Ivrea and Turin, as part of the
Torino 2008 World Design Capital
calendar.
The various partnerships between design and industry created design synergies that could be turned into an actual product. The time the designers devoted to learning about the companies and their ability to produce feasible and marketable solutions encouraged the companies to believe and invest in the single projects. In turn, the companies provided precious technical assistance and turned the proposed concepts into concrete reality. The validity of the project and its results is demonstrated by the patents registered for some of the ideas developed, the large sums the companies invested in prototypes and experimentation and the start of partnerships that seem destined to last.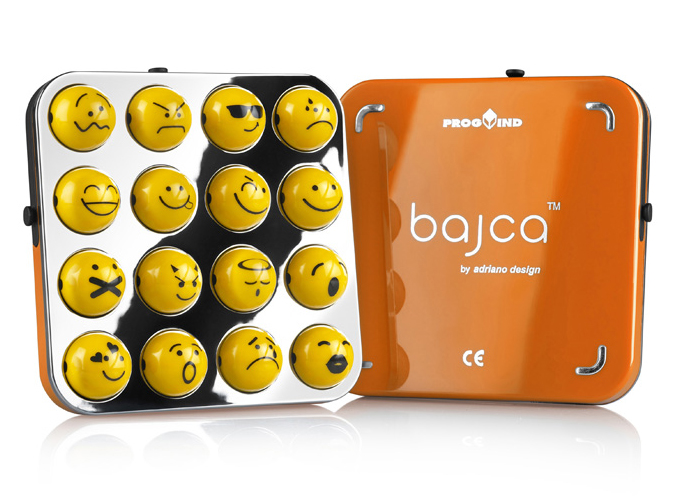 left/ AIRO - Single Action Mixer; Andrea Sanna, Tomo Kimura & Aircom
right/ BAJCA USB Emoticons Keyboard; Adriano Design, Pierre Franco & Progind
DIANA Intense pulse light treatment; Enrico Bergese, Lorenzo Modarelli & Tecno System

left/ EPPY- Expanded polypropylene Sledge;
right/ SNEPP- Expanded polypropylene Marble Run; Studio Boca, Anita Peretti & Iltar Italbox
left/ FIDO - avvolgicavo; Elastico Disegno & Zeca
right/ KINKÈ - Paper Lamp; Federica Cresto, Roberta DeStefanis & Ivrea Grafica
left/ TECHBOND - Marco Valente, Roberta Riva Dogliat & Fasti Industriale
right/ MISS POPPINS - Multi-use Cabinet; Davide Negri, Matteo Straforini & Gatta

left/ STELLA - Bench; Andrea Ciotti, Diego Pagliarin & CarloAngela
right/ SAFE HELMET - Profilo Design, Emanuele Di Fiore & Altesys

Torino Exhibition, Paolazzo Birago